Welcome to Harriman Utility Board
The Harriman Utility Board is dedicated to providing utility Electric, Gas, Water, and Sewer services to residential, commercial, industrial, and public facilities..
Our sole purpose for existing is to provide present and future rate payers with friendly, safe, reliable, efficient services at the lowest rates consistent with fair compensation to employees, safety for the public and employees and protection of our environment.
The key to ongoing success is a total organizational commitment to our rate payers and to each other. That commitment is based on integrity, honesty, and openness in dealings with our rate payers, suppliers and each other.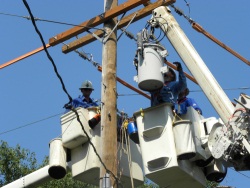 Recent News
**** PUBLIC NOTICE ****
Smoke Test on Sewer Lines
To All Harriman Residents and Occupants along Pansy Hill Rd, Marney Ct, Shaw Ln, Little Ln, Vernal Dr, School St, Russell Ave, Flanders Ave, Breazeale St, Foster Ave, Scarbro Rd, and Hassler Mill Rd: The Harriman Utility Board will be conducting smoke testing of the sanitary sewer system in the next 2 to 3 weeks. This testing will begin the week of September 5th.
"
CLICK HERE
"
******ATTENTION******
Mobile Device Users: (Smartphones or Tablets)
If you are using a mobile device (Smartphone or Tablet) to view or pay your bill online; you MUST use the Smarthub App. You can download and install the app for "FREE" at "AppStore" for Iphone/Ipad users and "Playstore" for Android users. You can click on the appropriate link below:
Apple IOS Users: Iphone or Ipad
Some Facts and Myths about Utility Rates & Practices
We would like to take this opportunity to respond to some of the comments........more
What our customers say:
"The workmen were courteous and had the old wires off (the) house and quickly removed the broken pole.  They had a new pole installed in a short time even though it entailed finishing the work after dark..." more
Linda C.
"I don't know what you all have done here in Wartburg…but you have definitely done something wonderful! . . ."
more
Annette N.
read all testimonials